Exciting News at Shanahan
Last quarter was an exciting one for us. First, we are thrilled to announce that we brought on board a new systems consultant, Colin Poole. Secondly, we were honored to receive the Outstanding Service Provider Year Award from the Statewide Advisory Council for the Massachusetts Commission for Deaf and Hard of Hearing. In addition, we were also recognized by the Massachusetts House of Representatives for our outstanding work and dedication to the deaf and hard of hearing community.
We are pleased to welcome Colin to our team. He is a seventeen-year veteran of AV sales and installation with Magnolia Audio Video and Best Buy. As an integral part of our sales force, Colin will be responsible for servicing our corporate and hearing loop clients in western and southern New England.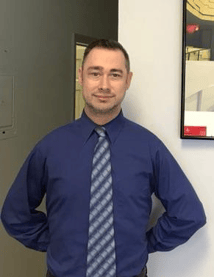 Colin brings an intense level of energy to his work. He has a true passion for taking cool ideas and translating then into high end AV systems - fitting perfectly with Shanahan's philosophy of designing high quality, scaleable, and easy to use systems. In addition, he has extensive knowledge and experience in IT systems and web design. He is a self-professed geek!
Colin grew up on the South Side of Chicago. Fortunately for us he hasn't let his love the for the Cubs affect his love of everything Boston, especially the Patriots, where his dad is a member of the End Zone Militia.
We've welcomed him with great fanfare and hope you do as well! Feel free to reach out to Colin via email at
colin@shanahansound.com
or call him at 978-453-1556. He will be happy to answer any questions you may have.
New England Hearing Loop, a division of Shanahan, received these awards specifically in recognition of our work installing hearing loop systems throughout the state of Massachusetts increasing the number of accessible meeting spaces.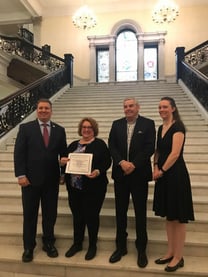 They also recognized our www.newenglandhearingloop.com website and the loop locator citing them as comprehensive resources and tools. In the last 8 years, since Shanahan has been designing and installing induction loops, also known as a hearing loops, we have met so many wonderful and committed people. It is a pleasure to continue working with them and this award furthers our resolve to continue to support the deaf and hard of hearing community by providing hearing assistive technology (HAT) of all kinds. Pictured here with Catherine Shanahan and Shaun Crossen are Commissioner Steve Florio of the Massachusetts Commission for the Deaf and Hard of Hearing along with Betsy Ireland from the HLAA Boston Chapter.
We were thrilled to meet and are in awe of the dedication of the other award recipients.
Congratulations to:
Diane L. Nettles Outstanding Advocate Award: The Islington Peninsula Neighbors
Outstanding Service Provider: New England Hearing Loop
Outstanding Legislators: Senator Cynthia Creem for supporting EDCO students & Rep Brian Ashe
Outstanding Young Advocate: EDCO Program for the Deaf and Hard of Hearing Students
Outstanding Organization Awards: The Learning Center for the Deaf
We are honored to be in such great company.
We ended the day with a special presentation from State Representative of Lowell, Rody Mom to Catherine.
Definitely a great quarter!