SHANAHAN NEWS
Featured News
---
SCN's 2015 Hall of Fame: Catherine Shanahan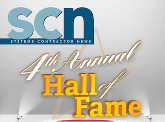 Leading New England Audio Visual Company Releases Whitepaper About Hearing Loop Installations Shanahan shares insights about using hearing loops to deliver clear sound to hearing impaired individuals.
Shanahan Announces Two New Strategic Partnerships to Deliver Digital Signage Solutions and Assistive Listening Devices.Shanahan is one of the first companies in New England to be selected as an authorized reseller of Carousel, a digital signage system by Tightrope Media Systems and an authorized reseller and installer of assistive listening systems from Hearing Loop Systems. Read the press release or read more about Assistive Listening Devices and Digital Signage Solutions.
Landmark Sound & Video Systems Integration Company in Lowell, Massachusetts, Launches New Look Catherine Shanahan, president of Shanahan Sound & Electronics, Inc., now known as SHANAHAN, launched a new corporate identity, including the company's new website and logo, earlier this month as a further tribute to her late father, Walter F. Shanahan, who founded the company 59 years ago and who passed away in December of last year.
Catherine Shanahan with Bob Boucher, President of MSCA (left) and Chuck Wilson, executive director of NSCA (right)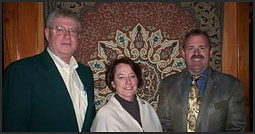 Boston Globe Features NSCA Board Member
Catherine Shanahan has led an interesting and varied life, having studied criminal justice, worked in the security field for a decade, and now running a successful business. Boston Globe writer Davis Bushnell profiled Shanahan in a recent newspaper article.
Massachusetts Businesswoman Helps Remove Stereotype of "Male-Dominated Industry" with Election to Board of National Systems Contractors Association
Shanahan Sound & Electronics Inc. announced that Catherine Shanahan, owner and president, was elected to the Board of Directors for the National Systems Contractors Association (NSCA) for a three-year term.
Catherine Shanahan quoted in Wall Street Journal
Catherine recently spoke to the Journal's Dana Mattioli about small businesses and employee benefits.
Shanahan Sound & Electronics Becomes WBENC Certified
Shanahan Sound and Electronics recently became certified by the Women's Business Enterprise National Council (WBENC).
Shanahan Sound & Electronics Becomes SOMWBA Certified
Shanahan Sound and Electronics recently became certified by the State Office of Minority and Women Business Assistance (SOMWBA).
---
Noteworthy Articles
---
NEW!
Getting Their Bearings
Has the pro AV industry really turned a corner? Regardless of whether 2010 ushers in a rebound, people are learning from the past and planning for the future. Published in ProAV
Women & the A/V Industry: Where We Stand Today
Read Catherine's follow up article on women in the industry. Published in NSCA's Building Connection and Sound & Communications. Published in Sound and Communications.

Seven Tips for Seamless Staging
Your house of worship is more than just an ordinary space. It's a space where families and friends experience great joy. It's a space where you might gather for Sunday services, Friday night events, and Saturday pageants. It's a space where people take part in weddings and funerals, holidays and solemn days. And, in many churches, the most sacred space of all—the pulpit and altar area—often doubles as a staging area, a place where age-old religion meets today's technology. Published in Religious Product News.
AV Industry: A Future Woman's World? Believe in Yourself and Nuture Your Dreams.
In 1951, my father founded Shanahan Radio & Television Service, a small shop in Lowell MA. How small was it? Published in Sound and Communications.
7 Strategies For Ensuring Smooth A/V Systems Integration
If you are thinking about installing a new electronic system (or upgrading an existing one) in your school, follow the advice given to students: do your homework. Of course, with so much information available, this task can prove daunting, even challenging for the most technologically minded. But, if you follow these seven strategies, you will be well on your way to ensuring your system is "a go" rather than a costly blunder. Published in Christian School Products.
Is Your Home as Intelligent as it Could Be?
Do you enjoy convenience, simplicity, and perhaps a bit of luxury? The the smart house is right for you. A smart house unites all independent home subsystems such as lighting, climate, security, audio, video, entertainment, and computing into one common control system. Published in North Shore Magazine
---
Messages in New Media
---
Catherine Shanahan featured in Sound & Communications Video Webcasts
Check out VIEWpoint Part One and Part Two as Catherine Shanahan, President of Shanahan Sound and Christina De Bono, President of ClearTech Media discuss AV opportunities for minority-owned businesses and their experiences in the industry.
Catherine Shanahan Interviewed by Woman-to-Woman Business Radio
Listen at Woman-to-Woman Business Radio - WCAP 980.You can hear Catherine Shanahan in the following radio talks:
---
Shanahan Projects
---
Custom Sound System by Shanahan Sound for Lynn Memorial Auditorium
Opened in 1948, the City of Lynn's Veteran's Memorial Auditorium was built as a state of the art entertainment facility.
Church Sound & Video System by Shanahan Sound - Trinity Church, Boston, MA
This completion affirms Shanahan's strength in providing superior systems and services to houses of worship seeking an exceptional sound and video experience for their celebrations and ceremonies.
Cheers
The project went from demolition to opening in about six weeks. Shaun Crossen, sound systems manager at Shanahan Sound & Electronics said, "Mr. Kershaw owns a few places in the city and has used our systems and services before."
Church Sound System by Shanahan Sound - First Church in Cambridge
Built during the 1600's, First Church in Cambridge is an Episcopal church that favors a traditional approach to worship. When the church underwent a major renovation in 2000, Shaun Crossen of Shanahan Sound & Electronics, found himself dealing with an issue that is common to the church market.
Sound & Video System by Shanahan Sound - Hope Community Church
Shanahan Sound & Electronics, Inc. installed a sound and video system that combines accommodations for a full, praise band with large rear-projection technology.
City Sports
The funky, beehive look of the SoundTubes does well to compliment the custom, cartoon murals that bring the store walls to life. The retailer is pleased with the dynamic impression on eyes and ears that the speakers make.
---