Customer Spotlight: NetScout
High Tech Solutions That Deliver The Ultimate Flexibility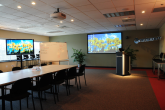 NetScout, one of the country's leading unified service delivery management companies, has been making things run smoothly for its clients and their clients for more than 25 years. When its clients want end-to-end network and application assurance, they call NetScout, and know they can rely on its record. When NetScout wanted a presentation room with sound as smooth and effective as the systems it offers clients, it sought out the
services of Shanahan Sound & Electronics
.
NetScout got what it needed: a self-contained presentation room for its sales and marketing requirements. NetScout loves the high-quality presentation screens and audio conferencing capabilities that wows its clients, as well as its sales and marketing staff. In the room, NetScout clients learn about the company's breakthrough packet-flow technology while enjoying breakthrough sound and video. With the presentation quality, NetScout can effectively show its clients how its technology allows them to obtain trusted and comprehensive real-time network and application performance intelligence.
NetScout employees love it too, and use the room even more than they expected. NetScout holds its company meetings in the new room, and more than 800 of its employees get to experience the benefits of high-quality, customized sound and video.
NetScout was fully immersed in the magic of Shanahan's systems and decided it wanted even more capabilities added to the room. It wanted high definition monitors to accentuate the main presentation, so Shanahan added three large 65-inch monitors on wheeled platforms. This allowed users to configure the room in multiple orientations that provided intimacy while allowing the room to also be used for company meetings and be an effective sales and learning space. NetScout can videoconference through any and all monitors.
Over the course of the last three years Shanahan has worked with NetScout's changing needs and goals: to wow clients, provide an environment to comfortably communicate with employees, to deliver effective training sessions, and to have the flexibility of adjusting their conference room to meet the needs of their audience. One room with all the right video and sound capabilities, what could be better?