The Age of Touchscreens
I don't think we're in Kansas anymore Toto. Even Captain Kirk has been passed on the technology highway. The age of touchscreen technology is here and enhancing the way we communicate, educate and conduct business. As the screens become thinner, their size is increasing, making the placement of the screens easier and more available. Users have the ability to interact with the screen without actually touching it - just like they do on NCIS!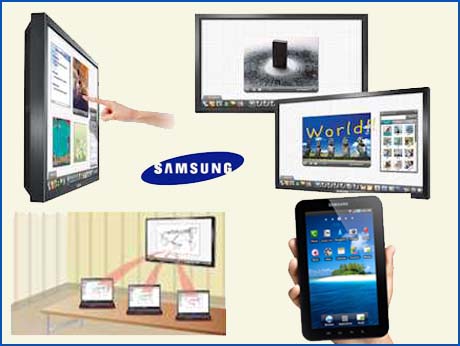 At Shanahan Sound, we assist schools, organizations and businesses by designing and installing the latest touchscreen technology including digital projectors, audio systems, interactive whiteboards and digital signage. This web-based system can host a single display or expand to almost limitless channels in multiple buildings. Here are some of the benefits of touchscreen technology.
Businesses are using touchscreen technology to:
Bring products to life at trade shows via touchscreen displays and information kiosks
Increase speed and customer service at fast food restaurants and retail stores
Educate consumers, create brand awareness and display public information through digital signage
Increase the speed of order fulfillment
Provide clients with up-to-the-minute business intelligence
Educational institutions are using touchscreen technology to:
Create an engaging and immersive learning environment
Prepare interactive lessons, stay organized, and improve teaching processes
Download free educational apps
Keep students, faculty and visitors informed of campus activities
Decrease costs associated with costly servers and memory storage
Healthcare providers are using touchscreen technology to:
Fill prescriptions at pharmacies
Improve accuracy in patient case management by replacing whiteboards with smart boards
Provide patients and their families easy access to information
Enable physicians to view electronic health records and patient specific information
Give doctors in radiology the ability to manipulate images and nurses the ability to adjust settings on ventilators and other medical devices
The development of smartphones and consumer tablets like the iPad, and Samsung Galaxy tablet among others have driven touchscreens into the main stream. As content management is further developed, there will soon be a seamless crossover between mobile, web and signage. From a cost structure, low-end screens will make it possible for this technology to become omnipresent in the future.
As touchscreen technology becomes "the norm", we will begin to experience it more in the classroom, boardroom and beyond. To learn more about how touchscreen technology can help you in your business, email: info@shanahandsound.com
Shanahan Sound is an authorized seller of Tightrope Media's Carousel, a digital signage solution.
___________________________________________________
To learn more about Touchscreen technology, give us a call at 800-786-1556 or contact us today. One of our professionals will be happy to work with you.