Massachusetts Historical Society: Using Today's Technology to Preserve the Past
Just recently, Shanahan completed its latest video production system at the Massachusetts Historical Society. Located in the heart of downtown Boston, this society is the oldest of its kind in the nation and serves to archive the collections and treasures of America's past.
In keeping with its traditions of preserving our nation's artifacts, the Massachusetts Historical Society also
strives
to capture and record its many guest lecturers and seminars.
With the Society's vision in mind, Shanahan created a new audiovisual system incorporating the latest video capture technologies. The Historical Society is now able to take these important lectures and make them readily available to all by archiving the videos and sharing them on their website.
The installation kicked off in the Fall of 2015. Our team focused on renovating three of the spaces within the building: Ellis Hall, the Seminar Room, and the Red Room. Our design concept was to create three independent presentation systems that would be combined into an overflow system with the simple press of a button. Ellis Hall, the most complex of the rooms s
erves
as the Historical Society's primary lecture space. The Hall was equipped with three pan tilt and zoom cameras that can be controlled and switched in the adjacent video production room. To deliver a cutting edge product, our engineers integrated the latest in video production equipment from Black Magic Design and Vaddio allowing the Historical Society to create broadcast quality videos.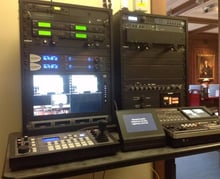 A few short months after completing the installation, the Massachusetts Historical Society has had great success with their new system and continue to use it almost daily. Shanahan could not be
happier with the final outcome of the project. We look forward to working alongside the Massachusetts Historical Society to continue integrating the latest audiovisual technology into preserving our American culture and history.